08/29/2021
Behind the Scenes of The Luxury 5-Star Montenegrin Cuisine
Read about the gastro story behind the 2020 Winner of the World Luxury Restaurant Award, this year's nominee for the Luxury Farm to Table Restaurant as well as The Leading Hotels of The World member.

Zeljko Knezovic, an Executive Chef of The Chedi Lustica Bay guides you through the behind-the-scenes of the luxury 5-star Montenegrin cuisine.


Talking about the behind-the-scenes of The Chedi Lustica Bay culinary concept, let's start with your own background and personal culinary path and how you found yourself here?

I was born in a small town in Bosnia and Herzegovina and my love for gastronomy started at a young age, cooking as a child with my mother, Zora. She was kind enough to have the patience to experiment with food with me, sometimes very successfully and sometimes not so much, but entertaining. Experimenting in the kitchen has influenced me and my love for food has only continued to grow. I went to the culinary school in Bosnia and Herzegovina, then moved to Croatia, where I used to work with two Michelin stars chefs. This was when I first started cooking seriously and understanding how to prepare food. I continued moving around the coast, went to Denmark for some time, came back to Croatia, and finally came to Montenegro. I have been exploring and experimenting with Montenegrin cuisine for about 7 years now.

What 4 ingredients are necessary in your kitchen?

Quality sea salt, Mediterranean herbs, quality olive oil, and love are the ingredients for every recipe.


Do you, as an experienced executive chef and a perfectionist who is used to paying constant attention to customers and leading a culinary team, cook at home as well?

Haha, sensitive question. Unfortunately, not so often. Despite the constant objections of my friends, I somehow get away with it. My excuse, always, is that my kitchen at home is too small.

I would say you miss your team in your home kitchen?

Definitely. I have an excellent youthful team with whom I can create and present many novelties in the gastronomic offer. The thing that drives us in our work is the adrenaline in the kitchen when the restaurant is full and the excitement of creating new flavors and dishes. I must say, all of them have an eye for detail and I would not manage all of this without them.

Could you please tell us more about the concept of the whole gastro story of The Chedi Lustica Bay hotel?

The food we serve in our restaurants is based on Mediterranean cuisine with the influence of northern Montenegro. We use a lot of organic foods and a lot of fresh herbs. The combination of traditional flavors with different ways of preparation and presentation is passed through the menu. In our menu, we try to present Montenegro to our guests, where through every dish we prepare, we think about every smell and taste that the guest will feel.

When talking about Montenegrin cuisine, which Montenegrin traditional dish do you think could be turned into a fine-dining dish?

I love Montenegrin cuisine because, although it's a small country, food will vary greatly depending on where you are. It has a strong Mediterranean influence in the coastal area, and fish is the most common food, while other dishes come out in the central or northern part of Montenegro. To reply to your question, I believe "cicvara" - braised cornflour with "kajmak" (salted and then squeezed fresh cream) and greaves, as we call them "čvarci" (pork rinds cut into cubes) would be a good choice. Also, "gibanica" with yoghurt or sour milk (buttermilk) and "popara" - bread with cream. We have such a variety of unique dishes, each with its own story, which makes experimenting with food much more fun. I'm trying to combine food from all parts of Montenegro and introduce it through the menu.

Besides the Contemporary Mediterranean cuisine, do you offer some more flavors?

Yes, as a brand running Asian philosophy since its founding, The Chedi has influenced us to open a restaurant with an Asian theme.
Chinese Chef Fugang joined the team from our sister hotel Rotana to help us accomplish this project and offer our guests a touch of Asia.

At The Lobby and Pool Bar, we offer top-quality sushi and sashimi, made of daily fresh ingredients.

What about sweet lovers?

Our Pastry Chef Vasanth Rajendran prepares various desserts, cakes, and cookies to satisfy your sweet tooth, available in our The Spot restaurant and The Lobby Bar. The new Cake Counter selection, combined with fragrant Italian coffees, makes you feel at home and worlds away at once.
Vasanth graduated from the prestigious SIHMCT Institute. He has been working worldwide (the Caribbean, the Americas, Asia, and Europe) and came to Montenegro about 6 years ago. He enchants hotel guests daily with his unusual cake-making techniques and an eruption of flavors, colours, and shapes. We want our guests to recognize the quality because we use the highest quality ingredients, such as Callebaut chocolate and Madagascar vanilla.

Do you have any signature desserts?

Yes, it is Berries and Vranac Sorbet. This is the dessert where we combined the berries of the north and one of the most recognizable symbols of Montenegro, Vranac wine.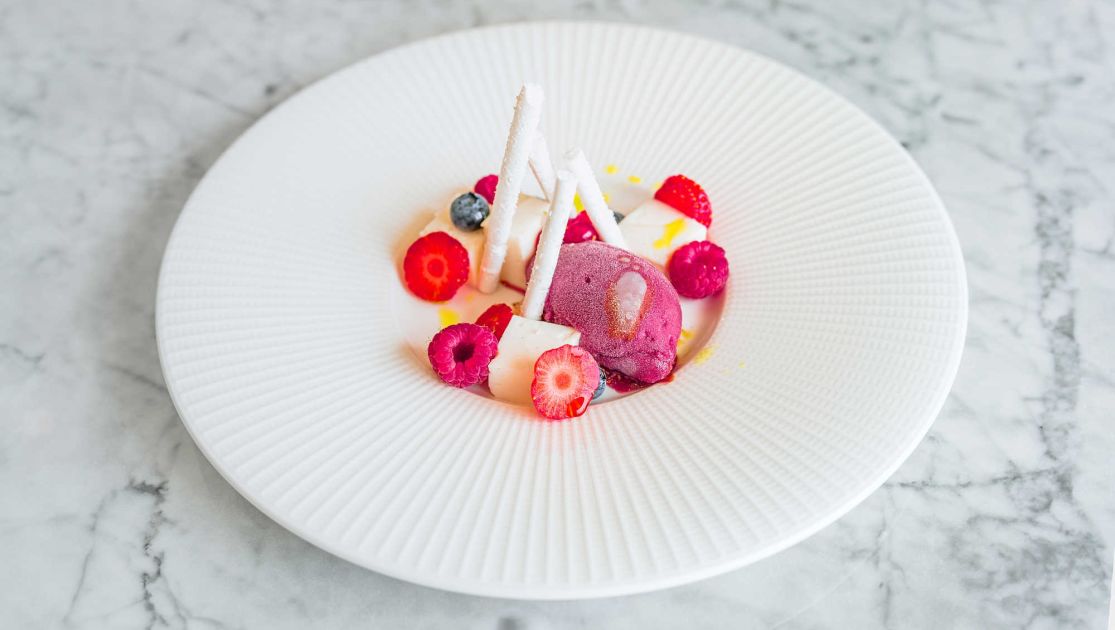 Where do you like to relax after work?

Like everybody, I often do my best thinking when I least expect it, when I'm relaxed, like during a walk or while having dinner, so usually, I head to The Rok Beach Bar & Lounge after work. The atmosphere there is laid back, so it's very easy to relax. I enjoy the beautiful sea sound and views and must admit, I can't resist the pizza they make here. After the first bite, it gets me thinking about new dishes, and new ideas again.